LinkedIn can often get overlooked by businesses as it's considered a mere job search or recruiting tool. In reality, LinkedIn is a lot more than that. When used correctly, this platform can help you strengthen and amplify your internal and external marketing and communications strategy.
With over 310 million monthly active users – 40 per cent of whom use the platform daily – there is a huge amount of potential for businesses to build a strong network, become a trusted source of authority and strengthen brand reputation. As we become increasingly more reliant on these digital platforms to lead our PR strategies, it is vital to know how to make the most out of these efforts, especially in today's competitive commercial landscape.
So, here are some high-impact tactics to bolster your communications strategy using LinkedIn.
Your company's LinkedIn page should reflect the business.
Your brand is everything, so your LinkedIn profile must demonstrate your brand image. Optimising your LinkedIn page to reflect the standardised tone, language and style guide your company adheres to is a simple way to legitimise your brand on the platform. While it may seem obvious to some, this step is vital to help users get a better understanding of your brand and instil trust in you.
LinkedIn makes it easy to create a page that presents your brand in the manner which you choose, so long as you fill in the prompted details. These include your company's:
Logo
Cover Image
Description
Website URL
Industry
Company size
Call to action
Custom buttons
And more…
Don't overlook the importance of these steps! According to LinkedIn, pages with completed and well-written information receive 30 per cent more weekly views.
Humanise your brand on LinkedIn
It doesn't matter if they are an intern, a junior or the CEO, your best advocates and brand ambassadors are your employees. While this resource can often be overlooked by companies, tapping into your workforce to write and share content is one of the best ways to humanise your brand.
Encouraging active participation amongst employees to share company content is one way to benefit your corporate brand image. Employee advocacy programs allow your brand to expand its reach and appear far more authentic than participating in paid promoted content. According to Dan Roth, LinkedIn Executive Editor, "the employees of a company have 10 times the social following that their company has." Unlocking the power of your employees on this platform can not only assist in giving a further boost to your brand awareness efforts, but this tactic is a great way for your employees to establish their own personal branding and portfolio on the platform.
As a start, set up a style guide for your employees who would like to take part in brand advocacy. Establishing a standardised cover image and logo for employees to use on their personal profile is just one more way to reach untapped audiences and increase the reach of your brand. This strategy can even help in recruiting efforts! With your employees interacting and sharing workplace experiences and projects there is a huge opportunity to attract new talent from your employees long list of connections.  It's a great way for company's to share an insight into strong workplace culture your company looks to uphold.
B2B marketing is more than just a sale pitch
Having a LinkedIn profile is a great way to gain trust and legitimise your business in the corporate landscape, but to establish authority and appeal to an audience takes a bit more effort. To maximise the B2B marketing potential of this platform, producing engaging content on a frequent basis is vital.
Whether your content is office updates, project announcements or company achievements, scheduling a tailored content plan can give others a glimpse into the brand and what you represent. Embrace branded visual content to establish an identifiable image, or utilise video for greater engagement.
LinkedIn provides a unique opportunity for brands to create an open dialogue about brand initiatives, office culture, employee highlights to benefit corporate brand image.
Check out this post from Nike as an example: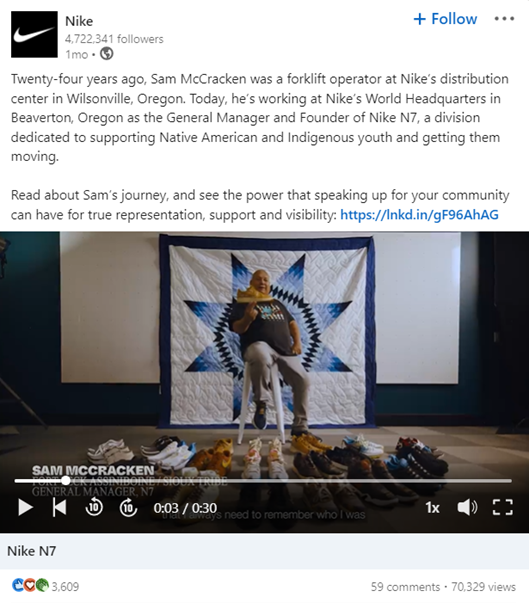 PR and marketing are all about storytelling to build a brand's image and utilising all the tools available to do so is a great way to diversify your brands following. LinkedIn is a unique platform, and when businesses utilise it correctly, it can become one of the most important tools in your communications strategy.
If you are looking for a team of social media strategists and experts to take care of you're LinkedIn, you're in the right place! At Pitch, we know how to transform your LinkedIn presence to bolster your marketing funnel and get you the results you're looking for. Contact us here to learn more.
Follow us on Facebook and LinkedIn or get in touch with us today.