Ever wondered what it's like to be a Digital Content Specialist? It seems like a dream job, right? 
To outsiders, a digital content specialist's typical day might look like they just wake up, grab a coffee, get to work and log into Facebook. From there, they might post some pretty pictures, maybe make a couple of Instagram stories, comment some gifs on a post and then head home.  
Unfortunately, that is not the case. In fact, that version of a day in the life of a digital content specialist would be a fairy tale! Ask anyone within the industry and they will tell you it's often a jam-packed day at the office. Digital content specialists are a vital part of any agency or communications team, managing several social media accounts and working with a variety of different platforms and teams. 
Let's take a sneak peek into the life of Aislinn, Pitch's Digital Content Specialist, to see what the job really entails.  
Well, if one thing is right about the misconceptions, it's that the day does always start with coffee! A flat white on almond milk, of course.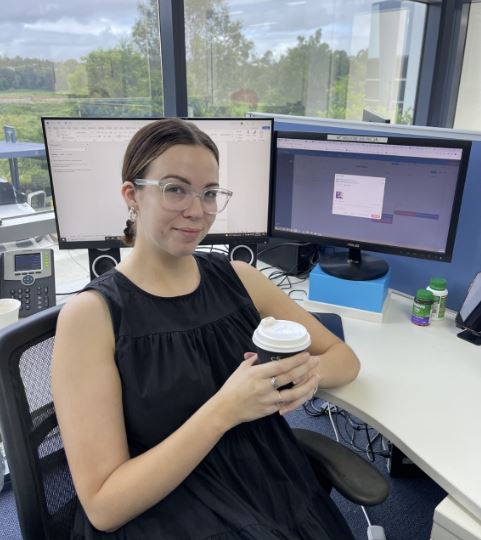 After that, it's straight into checking emails upon arriving to the office. As Pitch works with multiple brands and companies, there will be new requests, events, and timelines that need to be addressed and actioned throughout the day. Identifying these first thing in the morning helps Aislinn prioritise and schedule her day the best way possible.  
Next up, it's time to check interactions on the social pages from overnight. Pitch may only be open from 8:30 to 5, but social media knows no down time. A quick overview of the pages helps make sure there aren't any outstanding comments to address, scheduled posts were successful and to identify how the audience is interacting with the content. 
Now it's time to get into the nitty gritty of content creation. Many people assume a brand's social media posts are spontaneously taken in the moment and posted without much thought. This couldn't be further from the truth. Clients come to Pitch with a vision of the kind of content they are after and it's Aislinn's job to achieve this. Every little detail matters – including colours, angles, language, text, font and desired messaging. Amongst her busy day, she also attends events hosted by her clients to capture content first hand.   
The action doesn't stop here. After content creation for social media is completed, it is straight into blog writing. This task takes up a lot of Aislinn's day as it's not as simple as opening up a blank document and typing away. A lot of preparation is needed to create the perfect blog. Keyword research, quotes and compelling storytelling are all key to success! To ensure she has the perfect sources, Aislinn organises and conducts interviews herself – another out of office task which contributes to her busy schedule.  
To wrap up the day, Aislinn spends her remaining time writing media releases. Having to switch over from creative writing to press releases suitable for pitching to media is an under acknowledged skill if you ask us. After collecting information and quotes to finish composing the media release, it's on to step two – pitching them to relevant media targets. This is a vital step in the success of a media release. Aislinn has the task of reaching out to journalists personally, which she has to ensure she has a good relationship with, to achieve media coverage of the media releases.  
After a long day of work, it's time for Aislinn to head home, cuddle up with her dog and chuck on some Keeping Up With The Kardashians.  
While this is a typical day for Aislinn at Pitch, no two days are ever the same. Over the week, Aislinn also spends a lot of her time creating and planning public relations opportunities and strategies for clients, as well as compiling reports on what went well and provide feedback for the future. Just when you think she couldn't get busier, Aislinn also dabbles in copywriting for client's websites to ensure their page has the best content possible. Honestly, the daily list of tasks is ever-changing. 
While working in digital content may seem like a cruisy gig, it takes a lot of skill, creativity, critical thinking and time management. Here at Pitch, our team of communication and PR experts are on hand to take the guesswork out of your digital content strategy. Reach out to us today to learn more.